Chris Hoy learned on girl's bike
[ad_1]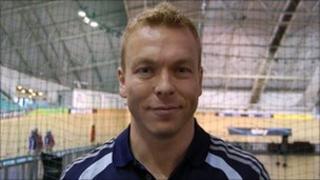 Cyclist Sir Chris Hoy's first bicycle was a girl's bike, the Olympic gold medallist's mother has revealed.
Sir Chris, 36, a four-time Olympic champion who won three golds at the 2008 Beijing Games, got the second-hand bike from his neighbour.
His mother, Carol Hoy, said he broke the bike "very quickly" so had to get a new one.
She said she thinks it is "mad" he earns his living by riding a bike but said she is very proud of him.
Mrs Hoy said: "His first ever bike was a girl's bike, handed over by a neighbour.
"I don't think he realised it was a girl's bike at the time. He managed to break that very quickly which perhaps meant he'd like a new one."
His Olympic titles are "very, very proud moments" but Carol Hoy added: "Then I was proud of him when he won the egg-and-spoon race when he was a wee boy as well. So I'm just a boring mum who loves her kids."
Chris Hoy is considered one of Britain's biggest medal hopes for London 2012.
Mrs Hoy's view of her son's success forms part of eight short documentary-style films, commissioned by Olympic sponsor Procter and Gamble.
Each tells the story of raising a world-class athlete.
Mrs Hoy recalled: "I think it does seem mad to earn your living from riding a bike, but it's what makes him happy."
Edinburgh-born Sir Chris got his first BMX bike when he was about eight or nine.
Mrs Hoy said: "I thought he was going to cry with happiness when we took him to the shop, he was so excited, thrilled."
He has a BSc Honours in applied sports science from Edinburgh University.
She added: "When he said he wanted to continue with cycling and he was at university and I said 'Fine, but university is the priority. Once you've done that, it's up to you.'
"Secretly I was thinking 'Hmm, you've got a really good degree and he wants to ride a bike…'.
"Did I say that to Chris? No. I think in my heart I thought he'll get fed up with that in a couple of months.
"I'm really glad I didn't say it to him."
[ad_2]
Source link